"When They Shook Hands, The Lewis and Clark Expedition Began"
There are statues of explorers Meriwether Lewis and William Clark all along the route of their expedition. But the one that signifies where the co-captains of the greatest expedition in American history joined forces is in Clarksville, Indiana, on the banks of the Ohio River in front of the Interpretive Center at the Falls of the Ohio State Park.
There's an interesting story leading to the statue's creation that starts with Phyllis Yeager, a former board member of the Clark-Floyd Counties Convention-Tourism Bureau. Phyllis, a Montana native, was deep into author Stephen Ambrose's book, "Undaunted Courage" when she read a statement on page 117 about the co-captains joining forces at the Falls of the Ohio.
She became concerned that Clarksville would be left out of the upcoming Bicentennial and immediately began taking action.
She attended a C.M.Russell art show in Great Falls, Montana, in March of 2003 where she met sculptress, Carol Grende, C.A. Grende for the first time. Phyllis repeated a motto from a highly respected friend that "History lives in Bronze" and mentioned that a statue was needed in Clarksville of Lewis and Clark shaking hands. Later, on the strength of a handshake after that first meeting, she and Carol began working together. In seven short months from the day they met Carol produced the statue of Lewis and Clark shaking hands. Phyllis kept her part of the bargain by securing funding for the project. The statue was delivered to Clarksville in time for the 2nd National Bicentennial Signature Event in October 2003.
To read the rest of the story and learn about the amazing Lewis and Clark Luck involved in this project, order the book written by Phyllis Yeager, "The Story of the Lewis and Clark Statue".
Monument: 108"x36"x126" Edition of 10
1/5 Life Size: 18"x6"x21 Edition of 200
Miniature: 4.5"x2.5"x5" Unlimited Edition
Inquire About Pricing Via:
When They Shook Hands...
Here is a brief video of this wonderful sculpture that gives you several perspectives.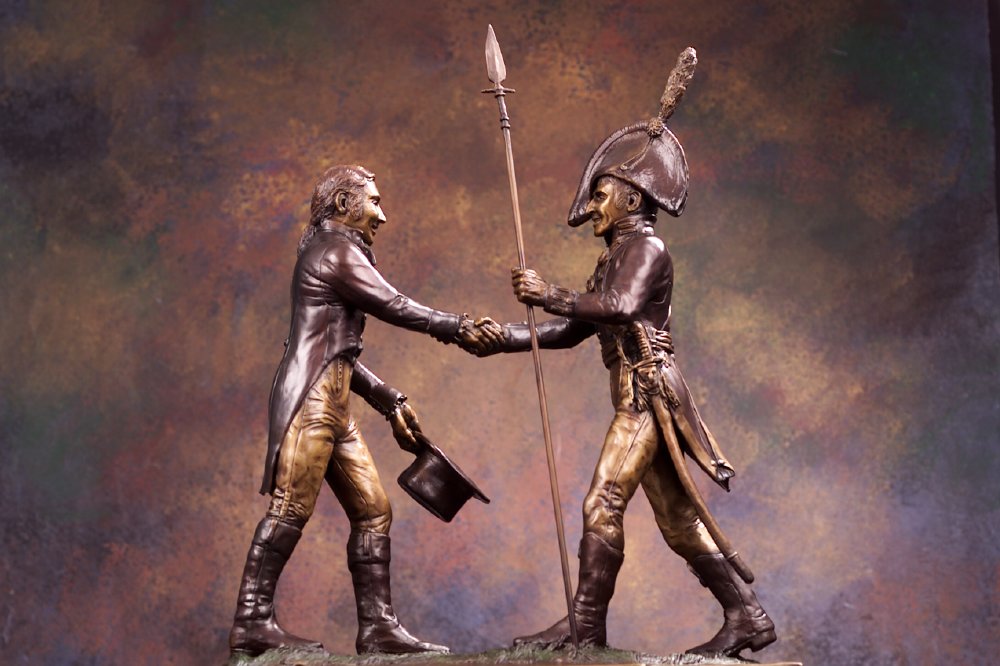 Lewis & Clark Shaking Hands